Kalamazoo and South Haven Railroad
Our model railroad is loosely based on the Kalamazoo and South Haven Railroad, which operated between its namesake cities. The trail guide indicates that this route attracted railroad developers as early as 1836. An historical marker at Bloomingdale tells us that the K&SH was incorporated on April 14, 1869 by a group of Kalamazoo businessmen. The line was completed in December, 1870. A year later, it became part of the Michigan Central Railroad. Passenger service ended in 1937, and in 1970 all rail service was discontinued. The right-of-way was then converted to a recreational trail.
Above left, the Kalamazoo & South Haven depot at Bloomingdale, restored to be the half-way oasis on the Kal-Haven Trail. Above right, the trail head at South Haven.
Below left and center, the passenger depot at South Haven, now a convenience store. Below right, the freight depot, used as a storage building (December 1999).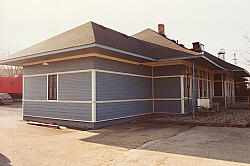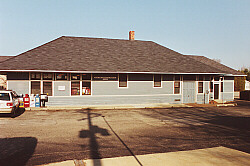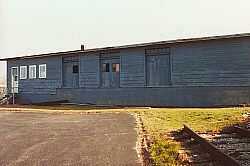 ---
Photos of Alamo depot
Photos of Kibbies, Gobles, Grand Junction, Kalamazoo
Timetables and Paper Items
Train Movement Registers
---
Links to sites with Kalamazoo and South Haven Railroad information
Other Sources
Frank N. Elliott, When the Railroad Was King (n.p.: Bureau of History, Michigan Department of State, 1988), reprinted from Michigan History, December 1965. Does not mention the K&SH (although the Michigan Central is, of course prominent), but details many changes that undoubtedly affected the K&SH. Well-footnoted, one could probably use the citations to find K&SH material. Me? I now live closer than Texas, but still a good haul from Lansing. Sigh. Someday.
Michigan History Magazine, published 6 times a year by Bureau of History, Michigan Department of State, 717 West Allegan, Lansing MI 48918-1805. Two special issues are worthy of note: November/December 1992, "Turbulent & Serene: Michigan's Great Lakes Experience" includes articles on the development of tourism along Lake Michigan; November/December 1993, "Steel, Steam & Smoke: Michigan's Railroad Heritage" includes a short history of the Michigan Central and rail-trail parks.
---
K&SH Historical Group
When I became interested in the K&SH, I found a surprising number of people who were also interested in this obscure line that hasn't existed for some time. We formed an historical group to pool information. There is no charge to join us. The group maintains a discussion list and files at Yahoo groups. The files include maps, timetables, histories, and other materials. To join us, enter your e-mail address and click the "join" button. We also have a Facebook page.
---
---
revised 25 October 2011, original 16 August 2009
---