Where do you keep all that small stuff you accumulate, along with tools that get lost in a big toolbox? It's hard enough to find good tools for working on models. It's even harder to find a good way to store them so they stay in good condition and so you can find what you want. If you are like me, you have small screwdrivers and other tools, paintbrushes, X-acto or similar knives and spare blades, small screws, couplers, wheelsets or trucks, detail parts, and other similar stuff to keep track of.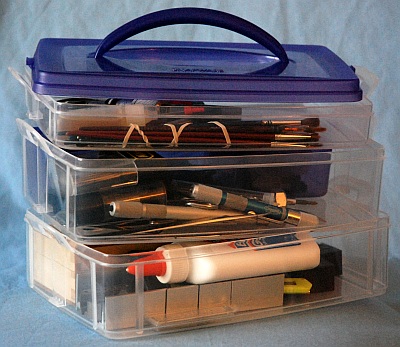 The first solution is often the famous Tupperware. At one time, Tupperware made products that were good for small items like this. But recently, their products have been either short runs that are hard to get, or more specialized kitchen ware that is less suitable for small items. A small screwdriver set or package of coupler springs don't fit well in a bin intended to hold a bag of flour.
So recently, for some reason, I had to go along with the other half on a shopping trip for yarn. Now, just as you and I never go to the hobby shop for coupler springs and leave without looking at anything else, shopping for yarn always includes looking at knitting needles, counting devices, and something in which to keep a constantly-growing stash. Here is why you should learn to keep your eyes open, figuratively and literally. While looking for something to store spools of thread (I know, where did that need suddenly come from?), I became acquainted with Snapware. A look and some trials have left me convinced that modelers should know about about this.
Snapware makes a variety of plastic storage products; the ones of interest are interlocking trays. There are three basic sizes that seem useful to modelers: 6 inches square ("small square"), 6x9 inch rectangle ("medium rectangle"), and 12-1/4 inch square ("large square"). Each tray of a given size will snap together, and at the store we went to, they come in sets with a lid and handle. Extra trays can be bought on-line, or you can combine sets, as long as they're all the same size.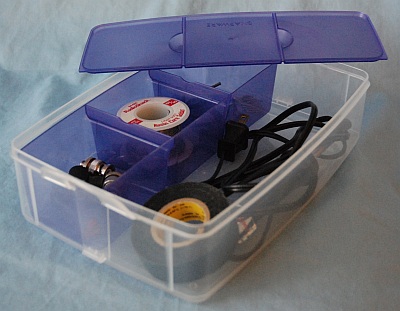 I have found the medium rectangle most useful. It's long enough for paint brushes, scale rulers, track pieces, and, as you can see, glue bottles, miter boxes, screwdrivers, and lots of other items. The pictured set comes with a short tray (1-14/ inches high) and two tall trays (2-1/2 inches high). I started with one of these and soon bought another set with two of the tall trays.
Inside one of the tall trays were two of these 3-section trays. I put one in another tall tray and had a place for screwdrivers and screws. The sectional tray holds wheels, small screws, couplers, and similar stuff. The lids fit tightly; you won't find stuff scattered to other trays after carrying the setup around. The first tray became a place to put a soldering pencil and other electrical tools, with adapters and small parts in the 3-section trays.
All in all, these boxes have made it a lot easier to find tools and small parts, and to move them around. Snapware is at www.snapware.com; you can find dealers or order from this site. I bought these sets at JoAnn Crafts, sometimes called JoAnn Etc. They are online at www.joann.com. The sets run between $6 and $10, but you can sign up for their mailing list, and you'll get e-mail or snail mail brochures with coupons than can be good for 30 to 50 per cent off!
---
Here's something else to look at while you're at a craft store: "point protectors, " a nice name for small rubbery covers that go on the end of a knitting needle.

They are intended to prevent someone from accidentally stabbing themsevels with a knitting needle, but they're useful for keeping the tips of small screwdrivers clean and the ends of tweezers from getting nicked and dull. And there is the remote possibility that you might stick your hand into a toolbox sometime and get a stab wound, too.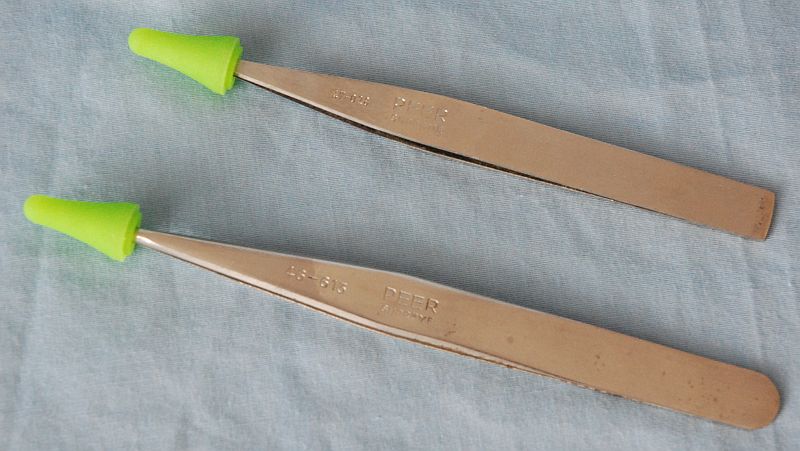 revised 22 October 2011, original 16 January 2009.
A version of this article for electronics use is at www.vermande.us in the Amateur Radio section.
SP&TV railcar image source: S70 LRV (CC-SA)