Johannes Cornelis Anthoni(e) Vermande (Jr)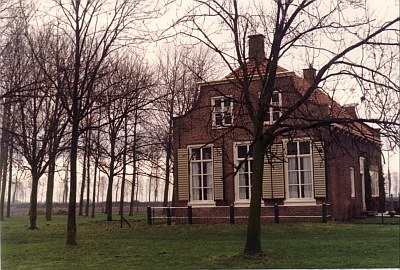 Johannes Cornelis Anthoni(e) Vermande was born 29 April 1862 in Heinkenszand, Netherlands to Johannes Cornelis Antoni Vermande (7 June 1819 - ?) and Johanna Maria Pilaar (20 November 1829- ?).
Johannes (Sr.) and Johanna were married 5 December 1855 in Goes. Their other children were Jacoba Henrietta Cornelia, later Van Der Made (21 October 1857 - ?), Jan Marcus Catharinus (18 March 1859 - ?), and Cornelis Jacobus (3 May 1860 - ?). Johanna Maria Pilaar, born at Goes, was the daughter of Cornelius Pilaar and Jacoba H. van Balen. Johann (Sr) was son of Jan Marcus Vermande, the mayor of Heinkenszand, and Catharina Simonse.
On 22 September 1883, Johann Cornelis passed the immigration checkpoint at New York, New York. He became a naturalized citizen of the United States on 1 November 1884 in St. Joseph County, Indiana (South Bend). He was a carpenter and contractor.
On 21 January 1895 he married Anna Louella Chalfant in South Bend, Indiana, USA.
Family stories portray Johann as a party animal. He came to know several important people, and was a frequent pool partner at Notre Dame with the Gipper. He also drank a lot and had a handlebar mustache that smelled of cigars.
He died on 12 February 1931 after being hit by a train while returning home from a poker game, and the governor of Indiana attended the funeral. He is buried at the City Cemetery in South Bend.
Photo: Vermande house in Heinkenszand, provided by Willebrodus Vermande.

Anna Louella Chalfant
Anna Louella Chalfant was born on 29 October 1865.
Her father was Thomas Bulla Chalfant (18 February 1820 - 20 July 1892). Her mother was Eleane C. Alford (5 August 1847 - 1916). Thomas and Eleane were married on 21 April 1864. They had one other daughter, Marnie.
The parents of Thomas Bulla Chalfant were Evan Chalfant (1797 - 19 January 1870) and Anna Bulla (21 December 1799 - 27 March 1849). This is the family for whom Bulla Street, which runs near Notre Dame University, is named. The Bullas once owned an apple orchard that became the site of Notre Dame's football stadium. Evan and Anna were married 15 July 1819 in Wayne County, Indiana, and had three other children: Mary (1827), Jane (1825), and William (ca. 1838-1844).
Evan Chalfant's father was Evan Chalfant Sr (1757 - 1830), who lived in Chester County, Pennsylvania. He fought in the American Revolution (Chester County militia, 1st company, 3rd battalion). In 1799, he married Ruth. They had another child, Elizabeth (1800 - 1885) who married in Caleb Shearon (1796 - 1854) in 1819.
Anna married Johannes Cornelis Anthoni(e) Vermande on 21 January 1895 in South Bend, Indiana. She died in South Bend on 28 October 1955.