---
Click any box or link for more information about the person, and pictures, when available.
---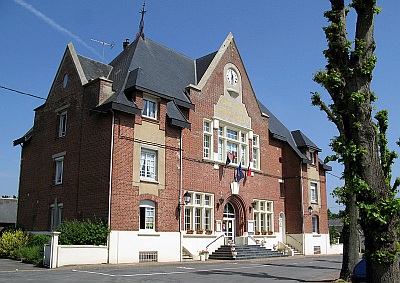 The Vermande family seems to have originated in France. A town north of Paris bears the name Vermand, and the French branch of the family still has a home nearby. The Metropolitan Museum of Art holds some Roman items found in the area. Click here for a photograph of the tower of the church in Vermand.
The area north of Champagne was once known as Vermandois. Medieval histories and the local library show a Hugh (or Hugues), Count of Vermandois, born 1057 C.E., son of Henry I (1031-1060) and Anne of Russia. Hugh apparently joined the Crusades in 1101. Hugh's brother, Philip (Philippe) I, went on to found the line that included St. Louis (Louis IX) and a few others we'd probably rather forget.
Apparently prodded by the Edict of Nantes, some members moved to Holland. At this point, information becomes sketchy, and a firm line of descent cannot be proved—except that the Vermandes of France bear a remarkable resemblance to those of America.
Photo of Vermand town hall, Marc Roussel, Wikipedia Commons CC-SA license

The Vermande family in North America traces its origins to Johann Cornelis Anthonie Vermande,
who came from the Netherlands shortly before the beginning of the twentieth century.

J. C. A. had one son:

who had one daughter and three sons:

The Vermande Family E-Mail list
If you are a member of this family or one of its extensions in North America or Europe, or are interested in our genealogical research, join our list. We will send you a confirmation message, please note that you must answer to join.
The current complete Vermande family tree is available to list members
in GeoCom and Family Tree Maker format in the shared files area at Yahoo Groups.
This file is maintained by Terry Vermande.
---

Genealogy links with special emphasis on the Netherlands.
This site is maintained by the children of Robert Donald Vermande.
Genealogical information compiled by Terry Vermande.
The site administrator is Timothy Vermande, e-mail.
---