The SP&TV is loosely based on the Kalamazoo and South Haven Railroad, which ran between its namesake cities in Michigan. Built in 1870, it later became part of the Michigan Central and then the New York Central. The line was abandoned in 1970, shortly after the Penn Central merger. The right-of-way is now the Kal-Haven Trail Sesquicentennial State Park.
In our scenario, when Penn Central abandoned the line, a local shipper's group purchased it. This was a fairly common response throughout the midwest to such proposed abandonments. The initial intent of the shipper's group was to save rail freight service, but they also found that rapidly increasing tourism in the area offered an opportunity for excursion trains.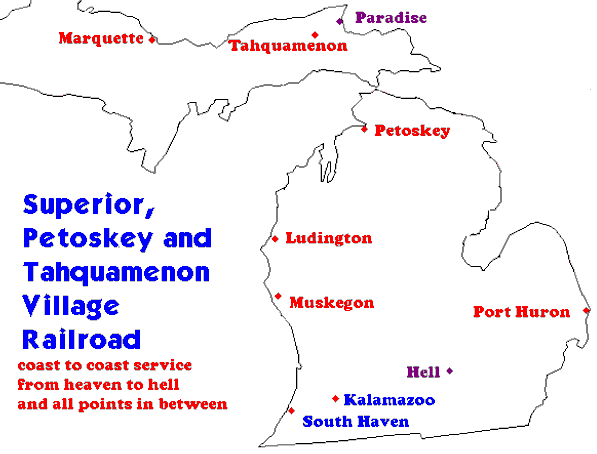 To choose the layout name, we started with our initials. We then pulled out a map of Michigan and started looking for matches. "Superior" came easily for the Great Lake. "Petoskey" is a town in the northwestern Lower Peninsula, the farthest point of Chessie's system. The Tahquamenon Falls are an Upper Peninsula tourist attraction, which we shamelessly turned into a village to fit our scheme
One of our hopes has long been to build an HO scale trolley layout. The more-or-less recent introduction of Bowser's new PCC, Spectrum's Peter Witt, and similar models has spurred that interest. So, at least in HO, it appears that the excursion trains will be part of a museum; freight service will be represented by a short interchange track. In N scale (see our page about modular modeling), the SP&TV is more of a short line, with an excursion train of conventional equipment, and freights hauling boxcars, grain cars, and an occasional billboard refrigerator. Courtesy of the Kalamazoo Model Railroad Historical Society, there's even some cars from an on-line business.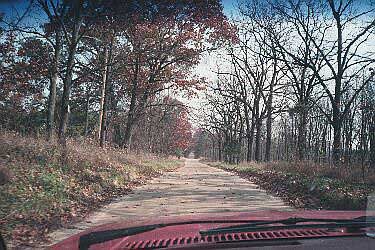 Two of Michigan's more famous towns are included in our slogan, but not our name.
As we have found out since leaving the midwest, there is a Cool, Texas, but it is almost always hotter there than in Hell, Michigan.
Paradise, however, is much cooler, being along the southern shore of Lake Superior.
In case you were wondering, there is no SP&TV rail service to Hell — it is served by a bus.
This creates a jarring ride — as anyone who has been there knows, the road to Hell is not paved with good intentions — or much of anything else. And, in all things, we honor the line's New York Central heritage.

---

revised 28 August 2020
map: http://en.wikipedia.org/wiki/File:MichiganCities.svg
SP&TV railcar image source: S70 LRV (CC-SA)